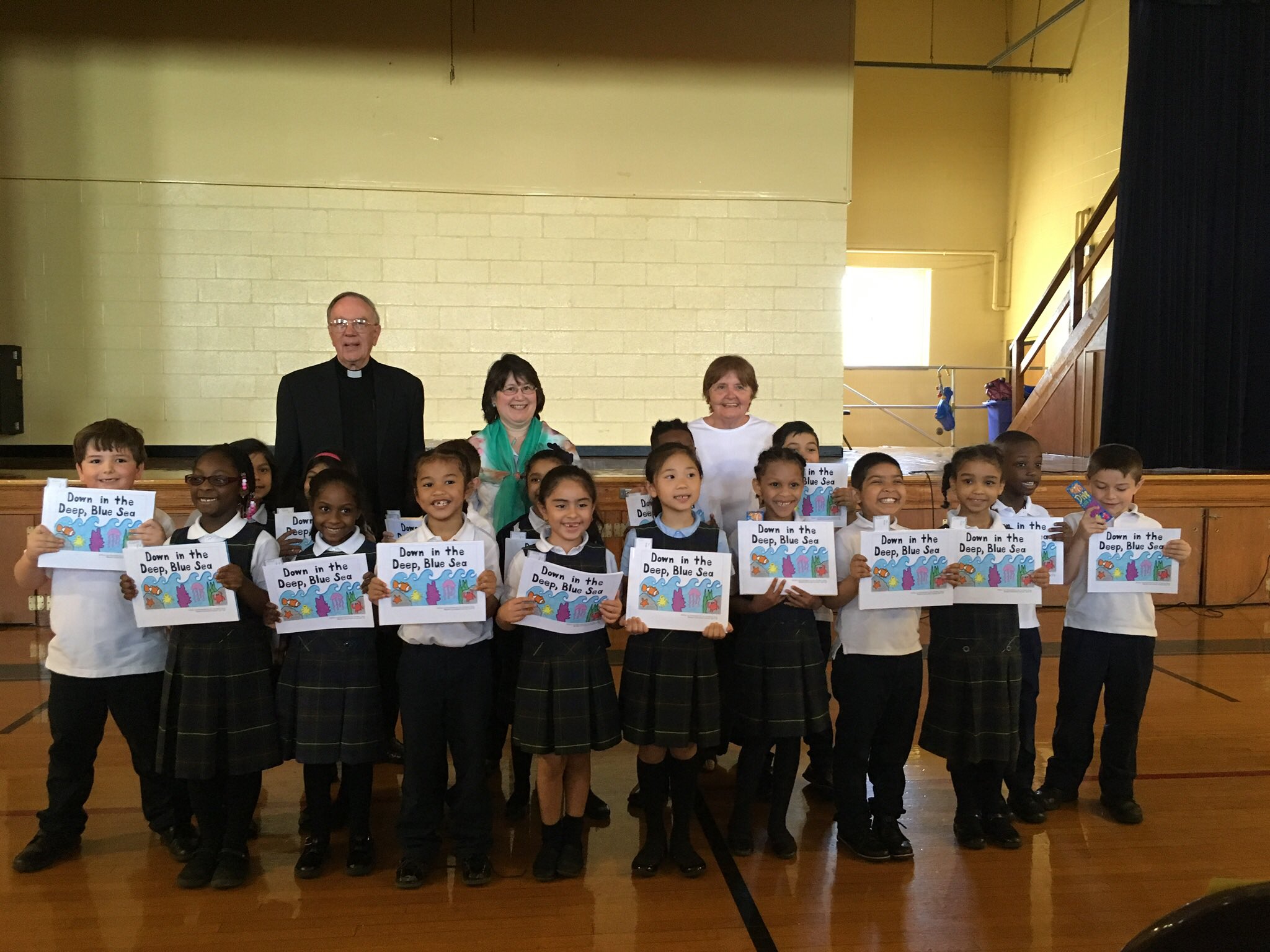 The results are in, and the winners of the 2017-2018 National Book Challenge have been announced! It's an exciting time, not just for the students whose books won the challenge, but young authors everywhere who hope to be published someday. Seeing these young writers not only writing books but publishing them (and even winning awards for them!) is hugely motivational and deeply inspiring. Here's a look at this year's winners—and a sneak peek at how your young authors can enter for a chance to win the next challenge.
Results of the 2018 National Book Challenge
Grade school students from Sacramento, California to Albany, New York—and everywhere in between—took part in this year's competition, submitting 156,000 books to be judged. Of that impressive number, 53 were named finalists—and just three made it to the top of the class.
The third place winner was Ms. Dooley's class from Blessed Sacrament School with their book

Down in the Deep, Blue Sea

.

They were awarded $500 for their entry.

From Edward H Bryan Elementary School, Mrs. Wood's students won 2nd place and $1,000 for their introspective publication,

Who Are We?

Last, but certainly not least, Mrs. Coniker's class at Ellenville Elementary School was awarded a $5,000 school grant for their grand prize winning book,

A World of Math

.
https://www.youtube.com/watch?v=Xmd_cs6X_4s&t=2s
Are you Enjoying this Content?
Challenge Accepted! How to Submit Your Classbook to the Competition
Entering your students' writing into the National Book Challenge is easy-peasy—simply publishing through Studentreasures grants your classbook automatic entry into the contest. Once entered, your class will be eligible for grants and gift card giveaways throughout the school year.
Want to take the challenge, but not sure where to begin? Studentreasures offers free resources to help teachers through each step of the writing process and set their students up for success. Here are just a few to get you started:
Celebrating Your Young Authors
Every child deserves to feel heard, to feel accepted, to feel proud—in short, to feel like a real published author! The purpose of the National Book Challenge is both to honor the students who have already achieved this goal and inspire those who haven't yet had the opportunity to be published. The best part is that you can open the door to that opportunity for your students right here, right now. All you have to do to get started is order a free Studentreasures publishing kit, and before you know it, your students will be the proud authors of an amazing new classbook. Who knows? Your book might even be next year's winning entry!
---
Ready to take the National Book Challenge with your class? Publish your unique classbook with us by May 31, 2019, you will automatically be entered into the contest to win up to $5,000 in prizes. It's that easy! Check out the contest page to learn more.
Image sources: Lead image and Image 1 via Twitter.